It's the best Godzilla figure I've ever seen, and I've seen plenty!
It's easy to proclaim oneself as fan of all things-Godzilla, but it's another thing to show it! A row of DVDs and VHS just isn't enough—you also need models and figures to placate on your bookshelf and desk. He is the king of monsters, and you shall worship the idols of his likeness!
But how to collect? Do you instantly grab every new Godzilla mold that comes down the line? Do you dedicate yourself to every figure in a single line?  That can be especially be maddening, not to mention pricey, if you're a completest like me. That's why I sold off all my Trendmasters line ( I had more fun in just tracking them all down than looking at them, cuz truth be told, those molds were rather ugly) and put my plans to amass countless bottlecap, mini-dioramas, and plushies on hold and settled into one single statue of Godzilla locked in mortal combat with King Ghidorah. Sure it cost a few hundred, but it looks incredible, shows all who enter my lair how Godzilla has touched my heart, and keeps me from having to spend even more moolah in a never ceasing effort to keep up with every model run to come out abroad.  Or so I had hoped.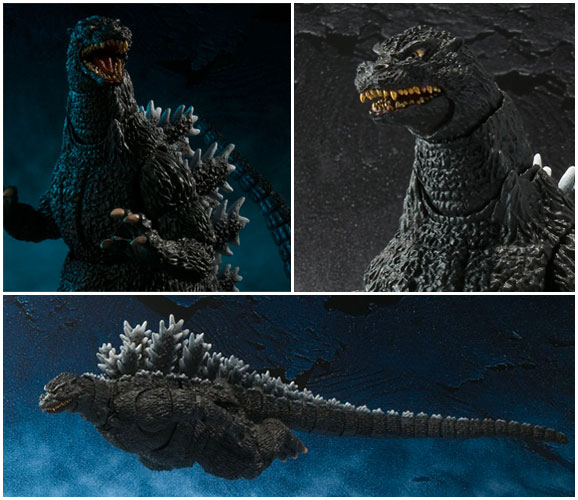 WHAT IS IT?
Bandai S.H.Monsterarts Godzilla
WHAT DOES IT DO?
Represents the King of the Monsters in all his majesty, by way of 29-points of articulation
WHAT'S THE DAMAGE TO MY WALLET?
$75
DO I REALLY NEED IT?
I thought I didn't, but...
Standing at a miniscule 6-inches, the Bandai S.H.Monstersarts Godzilla is slated to makes it debut sometime in November, estimated to sale for around $75. That's $12.50 per inch, but worth every penny if you ask me. And even if you don't ask, I'm still gonna tell you! 29-points of articulation is more than I ever asked for, especially in any 6-inch figure. I'll be able to come up with a new pose per week. And if that's not enough…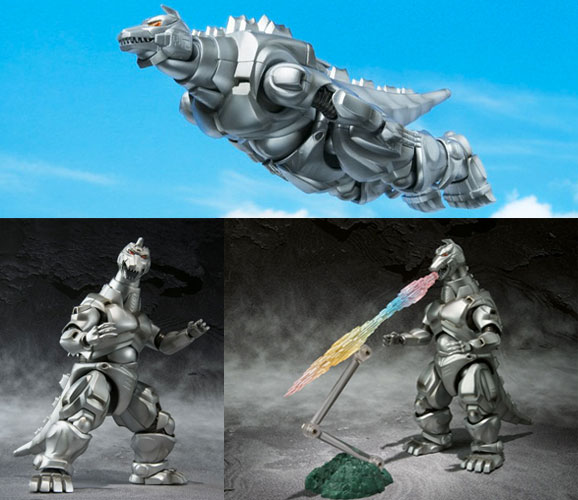 WHAT IS IT?
Bandai S.H.Monsterarts Mechagodzilla
WHAT DOES IT DO?
Everything Godzilla does, but with additional accessories!
WHAT'S THE DAMAGE TO MY WALLET?
$120
DO I REALLY NEED IT?
In for a penny, in for a pound…
The Bandai S.H.Monsterarts Mechagodzilla, who will costs more cuz he gives you more, namely a set of "Mega Buster" accessories. Since he's sculpted with his 90s look, one could only hope that Kiryu and cosmic invader Mechagodzilla won't be far behind, along with their respective Godzilla's to match. That's my hope, and also my fear, because I would have no other recourse but to get them all. If Bandai goes all out and covers the Showa, Heisei, and Millennium series, we're talking at least 20 figures here. 20 at $75 a pop… you do the math, while I brace to catch you as you fall out your seat! But that means they'll be rare, particularly on these shores, which means I will covet them with mouth-foaming passion.
Time for some disclosure: I had originally written this piece a good, good, good, GOOD long while ago, when these figures first came to market, and we're indeed only $75 at the time. But fast-forward back to the present, prices easy top $100, with some of the rarer ones like Rodan going for well over $200. This is going to pain me to say, more than most of you can ever know…

If were I to start, I'd never be able to stop, so I'm drawing the line, right here, today! ...Oh sweet lord give me the strength!
Despite all I've said, never let someone else tell you how to spend your money. Pick up S.H. MonsterArts Godzilla and Mechagodzilla II and make your own decision!